I'm not sure why every Best of 2018 list I see finds it necessary to represent every genre equally. The lone exception I have seen is Brooklyn Vegan, which started publishing genre-specific best-of lists along with their overall Top 50. In general, though, everyone seems to feel the need to be all things to everyone, and that just results in the same 5-10 records from each genre appearing in some shuffled order, which gives us a remarkably uninteresting degree of homogeneity. When I read year-end articles, I want to find things I would not have found on my own.
If you have read anything I have ever written about music, you know what you're getting here: independent guitar rock, with at least a 90% chance of it having female vocals. This is both a personal preference, as women's voices just appeal to me more than men's, and the state of the genre…let's face it – women are crushing guitar rock right now. And it's all from indie labels. I don't write music off because it is not independent, but I have heard so little of interest out of the major label world in many years that I spend most of my time looking elsewhere and digging deeper. So with that, let's see what commanded my attention in 2018. I stopped ranking these a couple of years ago because there was little point…people get way too hung up on rankings.
Best of 2018 Playlist
I'll make this easy and lead with my 2018 playlist.

Shattered World Radio
And if you like these songs, many of them are featured on my internet radio station, Shattered World Radio:
You can check it out on its own page here: Shattered World Radio
Remember Sports – Slow Buzz


This record slays. I'm having a hard time not just ending my review with that, but life is difficult, so I persist. I will give you my negatives up front: two tracks were released on last year's split 7″ with Plush, meaning I can't use them on my 2018 playlist, and one other is a reworking of one of their older tracks, so only 9 of 12 tracks were new to me. That's it. Those are the only bad things I can say. This album is great. From the very start, before they changed their name from SPORTS, the band has shown a tremendous talent for nailing catchy-as-hell guitar riffs, with emotive vocals and clever lyrics. Slow Buzz shows continued improvement on all of those fronts. This is a phenomenal album, out on the always-reliable Father/Daughter records (from San Francisco, my newly adopted city!). The opening track, Otherwise, has a slow intro. Focus inward and harness what is left of your attention span for a minute and wait for it to kick in. That drum beat has been finding its way to my fingertips several times a day since about June. The first pressing was 500 copies on baby blue vinyl and 500 on Grimace purple and bone color-in-color, and both are somehow still available, which is criminal. Get on that. Highlights: Otherwise, Up from Below, Calling Out, Pull Through.
Katie Ellen – Still Life EP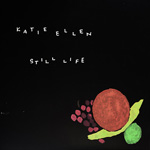 I got fully hooked on Katie Ellen's debut full-length late last year. That record led me backward to Chumped…still not sure how I missed them when they were a band. Actually, it turns out that I was one small decision away from seeing them open for Cayetana a couple of years ago. I ended up bailing because a) I had seen Cayetana two weeks prior, b) it was on a Wednesday in Baltimore, and I was not, and c) I had a date the next night, and decided I should not be completely exhausted for that. On the one hand, I missed out on seeing Chumped. On the other hand, I met my wife on the date, so…I'll take the hit on that one. Anyway, all of this is to say I have fully reached the point at which I am all in on any music Anika Pyle creates. She has a brilliant mastery of conveying emotion through powerful music and brutally honest vocals (always a winning combination in my book). Katie Ellen put out an EP this year on Lauren Records, and it is excellent. Adaptation of Para Todos is my favorite song of the year. There were 200 copies on orange vinyl and 300 on lavender – both have etched b-sides and both are still available. Highlights: Adaptation of Para Todos, Still Life.
The Sonder Bombs – MODERN FEMALE ROCKSTAR
The Sonder Bombs EP (2017)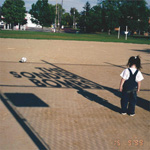 This band caught me off guard. I now have no idea where I first heard them. It actually might have been a Spotify playlist. I'm including both their 2017 EP and 2018 album here because I just can't overlook the song End of My Daze, from the EP, which is just about perfect. This band knocks out catchy indie-punk songs with powerful female vocals and a ukulele. It works, and it's awesome. Lead singer/ukulele shredder Willow Hawks has a big voice, and uses a slight overprojecting style that reminds me of early No Doubt, Save Ferris, or even Tilt. None of those bands ever really did it for me, but the Sonder Bombs do. The lyrics are powerful and not subtle – there is no mistaking Hawks' feelings about…well, anything. U(ke) Ain't Enough is my favorite track on the full length. Ms. Hawks clearly has a chip on her shoulder about everyone who has told her she couldn't have a punk band with a ukulele, and this song is a giant finger in their direction. And it's fantastic. The music has perfect punk rock urgency, and how can you not love something with the line, "So you can kick my ukulele punk-rockin' ass"? Listen to the final track on the album straight through – it contains one of the more brutal gut-punch moments I've heard in a while. Anyway, I highly recommend everything they have put out so far. No vinyl as of yet – CDs and cassettes. Highlights: End of My Daze (from the EP), U(ke) Ain't Enough, Pot & Kettle, Twinkle Lights.

Skating Polly – The Make It All Show


I gave this record its own full write-up a couple of months ago. As I said in that one, I think people get hung up on how young the members of Skating Polly are, and it unfairly limits how good the band can be in their minds. It's time to stop saying, "Wow, that's great for their age," instead of just, "Wow, that's great." The Make It All Show is a killer rock record. There are some intense, shredding songs on here with evil, menacing bass lines and brutal vocals. Go listen to They're Cheap (I'm Free) and Camelot right now. Then go see Skating Polly live. I had been dying to see some of the songs from this album in person since it came out, and finally did this past month. They're Cheap (I'm Free) matched the intensity of the recorded version. Camelot somehow blew the recorded version away – it was a half-step faster and just leveled the room. Hollywood Factory is another good one – that one is more of a great pop song. Little Girl Blue and the Battle Envy is a fabulous rock epic. The whole record is worth your time. The first pressing was on pink vinyl with red splatter. Highlights: They're Cheap (I'm Free), Camelot, Hollywood Factory, Little Girl Blue and the Battle Envy.
The Beths – Future Me Hates Me


This is the one record on this list you are likely to find on many others. I read a lot of reviews of Future Me Hates Me that were some form of "nothing groundbreaking here, but it's still great." Initially, I agreed. I enjoyed my first pass through the record, but my main reaction was, "Solid indie pop songs." Then, a few hours later, my brain said, "Hey…you know that album you just listened to? Do that again." As an obedient slave to my impulses, I complied. Then I did it again. Suddenly, I found myself listening to The Beths more than anything else over the last couple of months of 2018. So what is it about New Zealand's indie pop masters that gets me? Great hooks? Check. Great vocals? Yup. Fun, rolling drum beats? Sure. Building intensity throughout songs? Definitely. All of these things are elements that typically catch my attention. I think the thing that really stands out for The Beths above other indie bands is lead singer Elizabeth Stokes' ability to convey her inner monologue through her lyrics. These songs are riddled with clever ways to describe the things that are going through her head. A simple, "You make me feel three glasses in," from Little Death, demonstrates more romantic unease than most whole songs. The title track, Future Me Hates Me, which has been in heavy rotation on SiriusXM's XMU station, has been stuck in my head for at least the last two months. That one is a brilliant journey through Stokes' decision to let her guard down. In rapid succession, it goes from her putting her foot down with, "It won't happen again," right into, "It probably won't happen again," and then makes its way into the supremely catchy chorus, in which she admits that the subject of the song makes her want to risk going through all of the hell that can accompany relationships. The album is out on Carpark Records. The first and second pressings of the record were on "tangy yellow" vinyl, and, as far as I can tell, are indistinguishable. The third pressing was on a clear aqua vinyl, and we're now onto the fourth, which is a clear emerald color. They can't keep it on the shelves. Highlights: Little Death, Future Me Hates Me, River Run: Lvl 1
The Joy Formidable – AAARTH


Every Joy Formidable album that comes out takes me some time to process. I wonder if this is true for most people, and perhaps contributes to their recent commercial success not quite measuring up to that of their breakthrough album, The Big Roar. This band doesn't fully fit anywhere right now. They still have the 90s-style big guitar sound that made them catch on with the masses for a time. They are no longer supported by a major label, which hurts their exposure a bit. They haven't released a radio-ready song in several albums now, either. However, everything they've put out remains really good. It does take some time to absorb, though, and in a limited-attention-span world, that is probably the thing working against them most. AAARTH, their latest effort, should mostly be enjoyed as a whole. Again, it took me several listens before individual tracks started to grab me…but then, they did. What For is my favorite by a substantial margin – that song excels in delivering rock n' roll urgency. AAARTH was released in several vinyl forms: the most elaborate was a box set, containing a red vinyl version of the album (limited to 300 copies), along with an exclusive 7″ picture disc, a handful of other items, and a subscription, with which the band sends you 10 additional exclusive tracks (one per month). It also came out on yellow vinyl (limited to 300, Rough Trade exclusive), Clear With Yellow and Magenta Splatter vinyl (indie retail exclusive), and black vinyl. The band still draws a great crowd and still shreds – I recommend seeing them, if you have not already. Highlights: What For, Go Loving, The Better Me.
Bad Moves – Tell No One


I first caught Bad Moves live opening for Tacocat in DC in 2016, and anxiously awaited the release of their album for much of the two years that followed. Since that Tacocat show, it has become clear that they have assumed the mantle of the next great DC indie band – they seem to open for most bands I care about whenever those bands tour through DC. Great energy. Tell No One is a really solid debut album, full of infectious indie pop songs. Spirit FM is the biggest standout for me on the record (and the video is pretty great). The album came out on Don Giovanni Records, on black vinyl. Highlights: Spirit FM, Cool Generator, Missing You.
Long Neck – Will This Do?


I came across this one late in the year – great album from Lily Mastrodimos of Jawbreaker Reunion. Now, let's see…how to classify it. You know what? I can't. It has some tracks with classic indie rock song structure, but then it has others that fall under the singer/songwriter heading. But wait, there's more…others break out elements of folk and even Irish folk. The only thread that stays consistent through all songs is the vocals (and the lyrical references to northern New Jersey). It all works together well, and should be enjoyed as a complete album. Love Letters and Lichen are the songs that grab me most – they have a bit of extra intensity at certain moments. "I keep telling God I don't care what he does, but I wish he'd send me to Jersey." Released as a cassette on Tiny Engines. Highlights: Love Letters, Lichen, Milky Way.
Empath – Liberating Guilt and Fear


Empath is an interesting one – indie rock with a whole lot of noise. They put out Liberating Guilt and Fear, a cassette EP, along with two 7″s in 2018 (both called Environments, which makes my OCD hurt). Every Empath release has had at least one truly great track on it. Each one also has several moments in which it devolves into harsh noise. They tend to lose me in those moments, but the other parts make those worthwhile. The song The Eye is freakin' excellent, and is my favorite song of theirs hands down. Check it out. All of their stuff is on Get Better Records.